The Direct Selling business in India is fast becoming the need of the common man. It has percolated the growth opportunities down up to weakest section of the society and it has significantly contributed to our economy also. Unfortunately, this fast growing stream of business had no regulatory authority till recent past to govern the Direct Selling Business in India. Exploiting this lacuna, many unethical fly-by- night people invaded the business and duped innocent Indian public.
This situation prompted to initiate a mission to save this noble profession in larger interest of public and our nation. A few likeminded people founded FDSA, which is the sole representative of Indian Direct Selling companies now, and took the reformation of the industry as personal responsibility. A few genuine direct selling companies rendered their resources for the struggle of industry. FDSA is thankful to them.
FDSA is working with the government on policy matter, with the investigation agencies on nabbing the unethical players and with law enforcement authorities for protection of genuine direct selling entities.
During 2013, in the absence of any guidelines from the government, FDSA had formed self-governing 'Code of Conduct for FDSA membership companies' to recognize genuine Direct Selling Business models and award memberships to them. It is a proud moment for us, that the FDSA Code of Conduct is totally in-line with the Direct Selling Guidelines-2016 released on 9th September 2016 notified in the Gazette on 26th October 2016.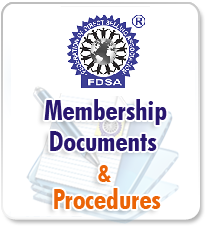 For the Guidelines and To Apply for the Membership click on the facing icon
Following are the companies who qualified under the scrutiny process of FDSA membership procedure
and awarded Fellow Membership.
---
फाउण्डर मेम्बरशिप | FOUNDER MEMBERSHIP
---
एफडीएसए की स्थापना के बाद से उद्योग के लिए संघर्ष कर रही उन 4 कंपनियों को फाउण्डर मेम्बरशिप से सम्मानित किया गया जिन्होंने भारत में डिसिप्लिन्ड डायरेक्ट सेलिंग के एफडीएसए मिशन के लिए अपने संसाधनों को समर्पित किया था। ये सभी कंपनियां फेलो मेम्बर हैं और साथ ही इनकी फाउण्डर मेम्बरशिप भी हमेशा के लिए बनी हुई है।
The Founder Membership was awarded to the 4 companies who were engaged in the struggle for the industry since inception of FDSA and rendered their resources for the FDSA Mission of Disciplined Direct Selling in India. These companies are Fellow Members whose Founder Membership status has been mandated to remain in force for life-time.
Fashion Suitings Pvt. Ltd.

RCM Business, a Unit of M/s. Fashion Suitings Private Limited, Bhilwara (Rajasthan).
For more details, you may visit www.rcmbusiness.com

ARL Retail Pvt. Ltd.

ARL Retail Private Limited, Delhi.
For more details, you may visit www.arlretail.com

Swadharma Corporate International Pvt. Ltd.

(Formerly know as SARSO Biznet International Pvt. Ltd.)

Swadharma Corporate International Private Limited

TranzIndia Corporate Network Pvt. Ltd.

Tranzindia Corporate Network Private Limited, Coimbatore (Tamilnadu).
For more details may visit www.tranzindiacorporate.com
---
फेलो मेम्बरशिप | FELLOW MEMBERSHIP
---
एफडीएसए की फेलो मेम्बरशिप उन कम्पनियों के लिए उपलब्ध है जो एफडीएसए द्वारा जारी कोड ऑफ़ कन्डक्ट का पालन करती हैं और मॉडल डायरेक्ट सेलिंग गाइडलाइन्स - 2016 के अनुपालन में हैं। इन कंपनियों पर फेडरेशन द्वारा सख्त निगरानी की जाती है और मेम्बरशिप का वार्षिक नवीकरण उनके संतोषजनक व्यवसाय आचरण और नैतिक कार्यशैली के आधार पर किया जाता है।
Fellow Membership is available to those companied who abide by the FDSA Code of Conduct and are in compliance with the Model Direct Selling Guidelines-2016. The companies are kept under strict vigil by the Federation and annual renewal of membership is done on the basis of satisfactory business conduct and ethical practices.
---